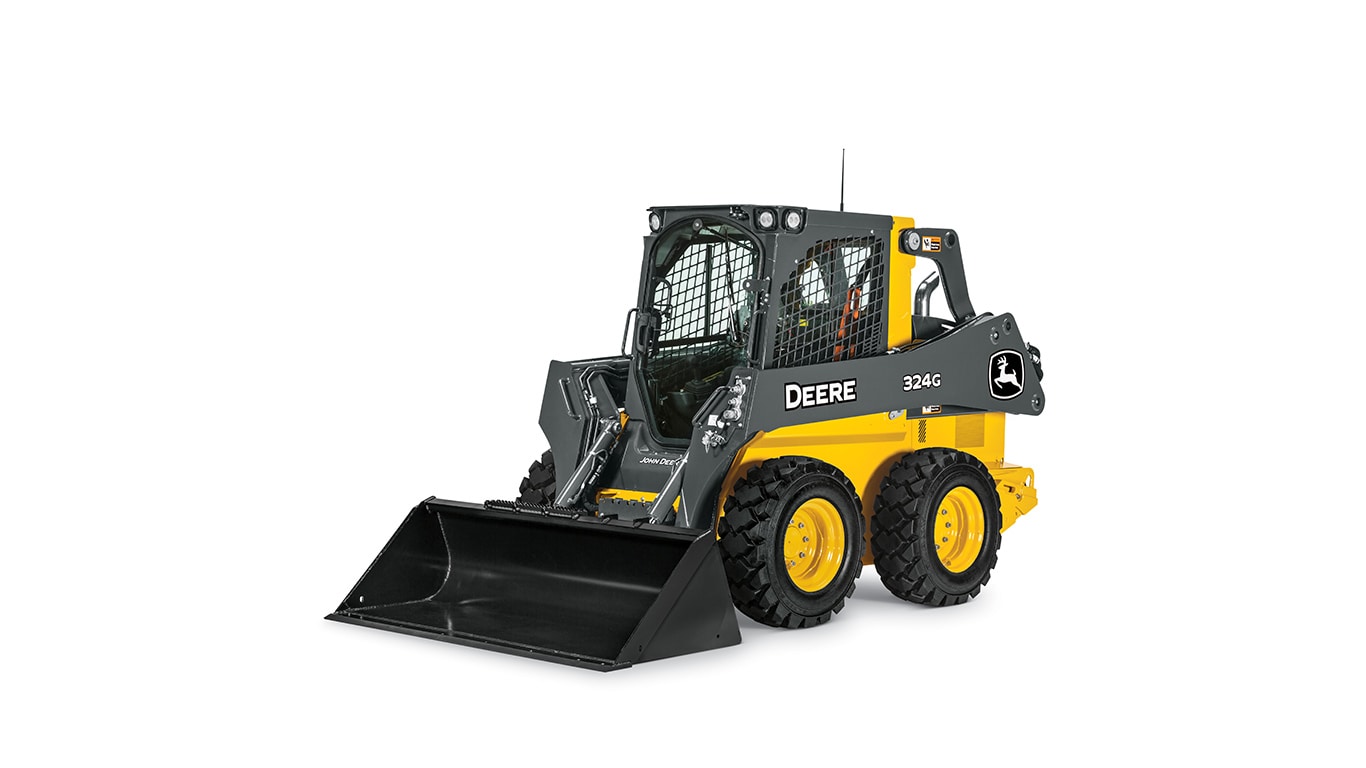 324G
Skid Steer
Rated Operating Capacity: 1221 kg (2,690 lb.)
Gross Horsepower: 55.0 kW (74 hp)
Net Horsepower: 52.5 kW (70 net hp)
Operating Weight: 3496 kg (7,700 lb.)
Starting At:
$61,081.00
Find a Dealer
Features
Increase your machine's versatility with John Deere's wide array of attachment offerings
With over 100 attachments offered in the John Deere portfolio you can make the most out of your skid steer by equipping it with a number of popular attachments.
Increased auxiliary hydraulic flows and power over previous models enable greater performance while running attachments and optional high-flow hydraulics lets operators add things like snow blowers, rotary cutters, or brooms
Optional electrically actuated Quik-TatchTM enables some attachment connecting to take place within the cab reducing the need for exiting and re-entering the cab to manually connect attachments.
Creep control (offered within the Joystick Performance Package) allows operators to perform precise tasks that require full hydraulic flow and power while running at lower travel speeds
For additional information on attachments and compatibility, check out the John Deere attachments guide
Enjoy all day comfort with the spacious and ergonomically friendly cab
To maximize productivity and comfort, an array of enhancements have been made to the spacious and comfortable cab on the mid frame sized machines to keep operators satisfied throughout the entire day.
The sealed and pressurized cab helps ensure that outside noise is reduced and also keeps the inside cleaner.
Optional air ride heated seat provides customers working throughout the cold winter months increased comfort and optional Bluetooth radio enables streaming of content from a cell phone.
Removable glass windows, from inside the cab, without the need for tools means that windows can be easily, quickly, and adequately cleaned to improve machine visibility
Multiple slip-resistant steps and ergonomically placed handles mounted on the interior and exterior of the machine result in a safer and more natural way to get in and out of the cab
Excellent visibility for increased situational and jobsite awareness
Enhanced visibility features enable the operator to view the jobsite to be as precise and productive as possible while also increasing jobsite awareness.
Optional deluxe LED lighting provides increased visibility early in the morning or at night over the standard halogen package
Clear sight from the seat under the boom arms to see the tires, even when the boom is down and great visibility to the cutting edges and Quik-TatchTM lock and unlock indicators
Rear view camera, low sloped hood and a high cross-tube on the upper-linkage result in unmatched rear visibility
Ease of serviceability allows you to spend more time completing the tasks at hand
Enhanced serviceability features and ease of access to daily and preventative maintenance points ensures that these tasks do not significantly cut into working hours
The hood tilts up for ground level access to the dipstick, fuel and fluid filler necks, filters, and see-through reservoirs
The cab is able to swing up and out of the way in less than five minutes for wide-open drivetrain access. A single person is able to safely and efficiently lift the boom and lock it out, exit the machine, raise the cab, and remove the footwell.
Removable metal side panels on the left and rear are lightweight and perforated with handles at optimized lifting points.
The removal of the footwell with just six total nuts and bolts allows for easy cleaning of dirt and debris that enters the cab.
Optional JDLink provides machine data and health alerts to help decrease costly downtime
Productivity enhancements that can benefit you regardless of the machine's application
The 324G is a reliable machine with low owning and operating costs that also offers customers an array of productivity features for rental companies, landscapers, or contractors.
Increased bucket breakout forces result in better handling of pallets of pavers or other heavy materials in addition to helping heap the bucket with larger loads.
Optional ISO-H switchable controls with EH Joystick Performance Package that allows operators to choose the pattern they prefer
Differential steering allows the operator to maintain speed and traction when pushing through a turn
Standard two-speed drivetrain delivers travel speeds up to 12 mph for Skid Steers that allow operators to get from one side of the job to the other much quicker
Specs & Compare
ADD MODEL

DESCRIPTION

324G
Current Model
Lift Geometry
Vertical
Fleet Management
Yes
Precision Guidance
No
Proximity Guidance
No

DRIVELINE

Engine Manufacturer
Yanmar
Engine Model
4TNV98CT
Emission Rating
Tier 4
Aspiration
Turbo
Displacement, ltr (Inches³)
3.3 (203)
Rated Speed, rpm
2500
SAE Net Power, kW (hp)
52.5 (70)
SAE Gross Power, kW (hp)
55 (74)
Max. Gross Torque, Nm (lbf / ft)
280 (207)
Drive Chain Rating [ANSI]
80 - HD
Tire size - Standard
12 - 16.5 - 12 PR SKS

DIMENSIONS

Length - No Bucket, mm (inches)
2850 (112.3)
Length - With Bucket Foundry, mm (inches)
3460 (136.3)
Width - No Bucket, mm (inches)
1700 (67)
Overall Height, mm (inches)
2060 (81.1)
Ground Clearance, mm (inches)
240 (9.3)
Wheelbase, mm (inches)
1120 (44.2)
Rear Departure Angle, Degrees
28
Height to Hinge Pin, mm (inches)
3200 (126)
Dump Angle, Degrees
41
Dump Height - Maximum Foundry, mm (inches)
2590 (102.1)
Reach - Max Dump Height Foundry, mm (inches)
760 (29.9)
Rollback - Ground Level, Degrees
34

CAPACITIES

PERFORMANCE

Rated Operating Capacity - Foundry, kg (lbs)
1221 (2690)
Tipping Load - Foundry, kg (lbs)
2443 (5380)
Axle Torque - Maximum, Nm (lbf / ft)
6771 (4994)
Speed - Maximum, kph (mph)
11.1 (6.9)
Speed - Maximum Option, kph (mph)
17.9 (11.1)
Breakout - Lift Foundry, kN (lbf)
23.3 (5250)
Breakout - Bucket Foundry, kN (lbf)
38.9 (8750)
Hydraulic Power, kW (hp)
31.009 (41.5)
Hydraulic Power - Option, kW (hp)
47.103 (63.1)
Pump Output, lt/min (gallons (US) / min)
78 (21)
Pump Flow - Option, lt/min (gallons (US) / min)
120 (32)
System Pressure, bar (PSI)
237.87 (3450)

WEIGHTS
© COPYRIGHT 2023 SMITH TRACTOR CO. EQUIPMENT - ALL RIGHTS RESERVED| Privacy Policy | Powered By