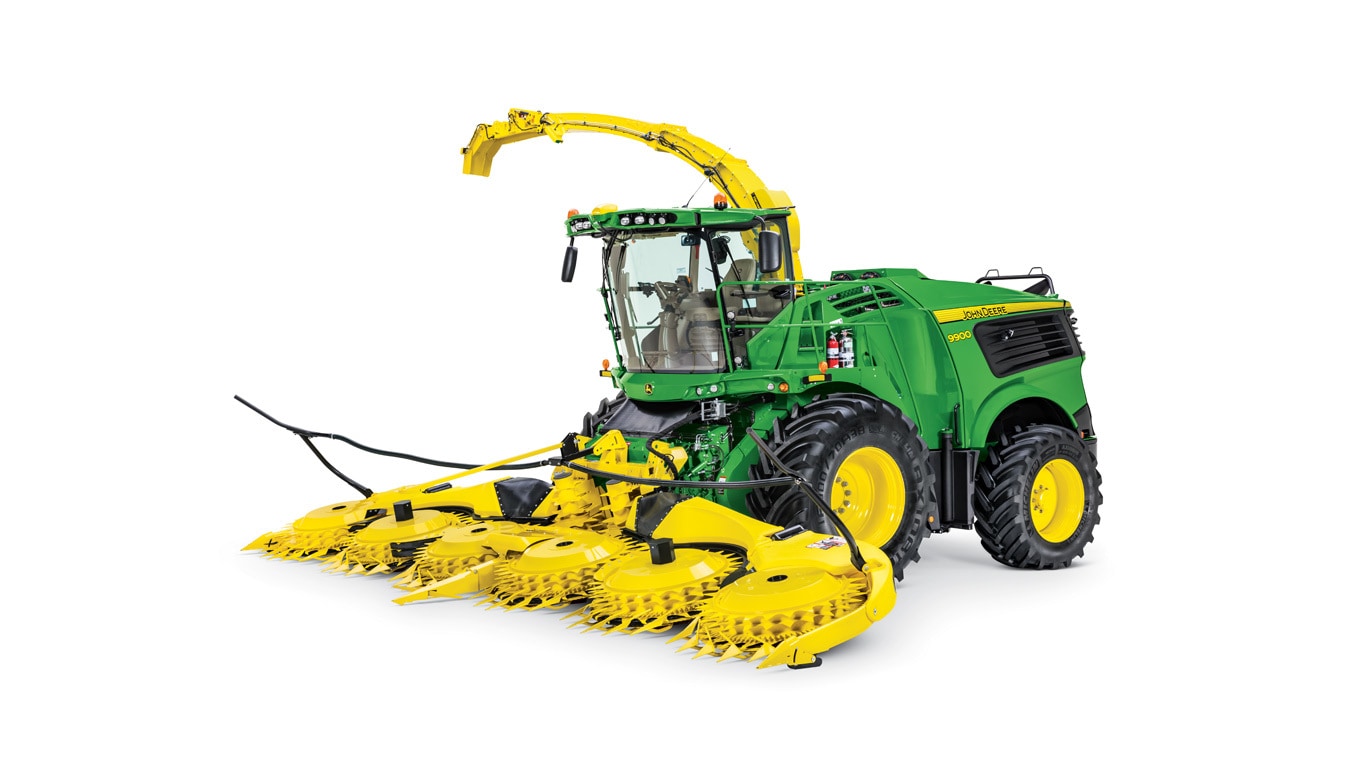 9900
Self-Propelled Forage Harvester
956 hp, 24L Liebherr V12 engine
Driveline designed to deliver optimal crop flow when the engine is operating in its efficiency sweet spot
The ProStream crop flow designed with extra heavy-duty components for high horsepower and more throughput than ever before

Request a Demo
Features
High-capacity feeding supports high silage quality
Leading header technology
John Deere rotary harvesting units are built for reliable and powerful feeding of high-capacity forage harvesters. Two fundamental designs are available to match all producer needs. The 600plus Series Headers are the universal solution for different crops up to 4-m (13.1-ft) tall. The 700plus Series Headers are the perfect solution for high-yielding crops.
Available beginning in model year 2019, the top-model 772 12-Row Large-Drum Rotary Harvesting Unit has been designed to fully leverage the capacity of 9000 Series Self-Propelled Forage Harvesters (SPFH).
The 6X9 Series Pickups with the patented endless flight vortex auger design and optional dual header drive enable high-capacity feeding of John Deere SPFH. Key advantages are the throughput boost in high-yielding crops but also the easy handling of uneven windrows.
Variable header drive
John Deere SPFH come with variable header drive in base. The header speed is automatically synchronized with the feeding speed and length of chop through a hydrostatic IVT™ drive system. This ensures a gentle and even crop transfer from the header into the machine without blocking or disrupting material transition. Producers receive the benefit of high chopping quality and full leverage of the header and crop flow potential.
Dual header drive
Dual header drive for the SPFH and the 6X9 Series Pickups complements the benefits of the variable header drive. While the variable header drive automatically synchronizes the pickup auger and harvester feeding speed, the dual header drive with its individual hydraulic drive of the pickup tines is speed matched with vehicle speed to ensure clean crop picking in changing conditions and windows.
Tines speed up and slow down with forward speed while the pickup auger speed is still synchronized with the length of chop and feedroll speed. Producers benefit from a better quality of chop, smoother feeding, and an easy-to-utilize harvesting system.
Hydraulic feedroll dampening
The 9000 Series SPFH offer the hydraulic feedroll dampener in base. Next to the four individual springs applying high pressure on the crop mat entering the machine, the dampener supports crop compaction in uneven crop conditions and ensures smooth feeding even at the highest feeding speeds when chopping for a very long period.
Unique foreign object protection
A state-of-the-art metal detector scans for metal in the crop mat and stops the intake in case of tripping. Optionally, this safety device can be completed with a unique stone detection feature that senses for knocks and abnormal feedroll movement. Two redundant sensors developed for this application improve solid foreign object detection and minimize false tripping caused by lumps or uneven windrows.
Low engine speed concept
The John Deere 9000 Series Self-Propelled Forage Harvesters (SPFH) have been developed with a clear focus on machine performance: more throughput and less fuel consumption while providing maximum uptime and low cost of operation.
A key success factor is the concept of lower engine rpm at higher harvesting component speeds.
V12 – 24-L concept: The Liebherr® D9512 engine
The top-model 9700, 9800, and 9900 SPFH are equipped with a Liebherr 12-cylinder V-engine with 24-L displacement. The Liebherr D9512 is a state-of-the-art engine and delivers what a high-performance forage harvester requires:
High power density and great fuel efficiency
Constant maximum power down to lower engine rpm
Torque curve designed for forage harvesting applications
The broad maximum power range of the Liebherr V12 engine cuts off the less-efficient rpm area above 1800 rpm. The rising torque curve down to 1300 rpm enables efficient operation of the machine in the lower rpm range.
Revised driveline with optimized component speeds
To reach maximum efficiency and performance, all machine component speeds are re-worked and laid out for best function in the 1400 to 1800 engine rpm range. This also leads to better fuel efficiency with an optimum range from 1250 to 1600 rpm, where the engine has its lowest specific fuel consumption (g/kWh).
This unique concept delivers undisputed customer value:
10 percent more throughput (t/kW)*
10 percent better fuel economy (L/t)*
More hours in the field with 1500-L (396.25-gal.) diesel tank and 90-L (23.8-gal.) urea tank
*Compared to replaced models
Liebherr is a trademark of Liebherr-International AG.
Improve silage quality with two kernel processing options
Overview
John Deere self-propelled forage harvesters (SPFH) set new standards in kernel processing performance. Proven in independent tests during corn harvest in 2016 and 2017, John Deere kernel processors (KP) deliver smashed kernels and highly processed plants that growers expect. With two different models, the John Deere Premium KP™ kernel processor and the John Deere XStream KP™ kernel processor, all different needs will be satisfied.
Additional details
All John Deere SPFH can be operated with or without a kernel processing unit in position. When not in use, a crop transition chute (or grass chute) swings into position with a few turns of a crank. The crop transition chute comes standard on all harvesters.
The SPFH feature the AutoLube central greasing harness; the respective central greasing equipment is available on the Premium KP kernel processor. The XStream KP kernel processor features automatic pressurized oil lubrication.
The John Deere Premium KP is available for the 9500 to 9800 models, and the John Deere XStream KP is available for all 9000 Series models. The 9900 model can only be equipped with an XStream KP.
John Deere Premium KP
On the 9000 Series, the proven John Deere Premium KP can be installed on the 9500 through 9800 models. With their highly intense processing, they deliver excellent forage quality at any length of cut.
The main features of the Premium KP are:
240-mm (9.45-in.) roll diameter for different crops (maize and whole crop)
32 percent speed differential; option of 40 percent speed differential
Standard KP housing with grease lubrication in base
Electric KP gap adjustment from the cab as option
The following rolls are available for the Premium KP:
Standard sawtooth (118/118 teeth)
Dura Line™ sawtooth (118/118 teeth)
Whole crop sawtooth (178/178 teeth)
With the option of Dura Line rolls, a longer lifetime and less wear can be reached, resulting in lower cost of operation.
For easy and uncomplicated mounting and dismounting of the KP, a crane with electric winch can be installed as an option.
The following diagram shows the complete John Deere Premium KP offering with all possible combinations.
Sawtooth (118/118 teeth) – code 3734

John Deere Premium KP with:

Standard KP housing
240-mm (9.45-in.) roll diameter
32 percent speed differential
Grease lubrication

Dura Line sawtooth (118/118 teeth) – code 3738

Whole crop sawtooth (178/178 teeth) – code 3743
The following additional options are also available for the Premium KP.
John Deere XStream KP
The John Deere XStream KP is the heavy-duty solution made for high throughput and high-horsepower machines and stands for extreme processing at any length of cut in any crop and any conditions.
The XStream KP rolls are manufactured and delivered by Scherer Inc., located in South Dakota, United States. The kernel processor is supplied ex-factory by Scherer Inc. and fits on all 9000 Series models. As Scherer Inc. has a strong focus on dairy forage production and is the leading company in KP roll designs and manufacturing since 1999, a strong statement is set regarding kernel processing and forage quality.
More information about Scherer Inc. can be found on their website: http://www.schererinc.com/
The main features of the XStream KP are:
250-mm (9.8-in.) roll diameter
50 percent speed differential
Heavy-duty housing with KP roll quick-exchange system
Pressurized oil lubrication of bearings
Bearing temperature monitoring system (option)
The following rolls are available for the XStream KP:
Dura Line sawtooth (110/145 teeth)
Dura Line XCut (110/145 teeth)
Dura Line Whole Crop XCut (145/165 teeth) – only available for 9000 Series
All XStream KP options for 9000 series are available with 10- or 11-inch rolls.
In comparison to the Dura Line sawtooth rolls, the Dura Line XCut rolls have a spiral groove sawtooth profile that delivers excellent processing, especially at long lengths of cut. The spiral groove design delivers highly processed plants and smashed kernels.
For easy and uncomplicated mounting and dismounting of the KP, a crane with electric winch can be installed as an option.
The following diagram shows the complete John Deere XStream KP offering with all possible combinations
Dura Line sawtooth (110/145 teeth) – code 3750


John Deere XStream KP with:

Heady-duty housing
250-mm (9.8-in.) roll diameter
50 percent speed differential
KP roll quick-exchange system
Pressurized oil lubrication

Requires:

Air compressor (code 8710)
Hydraulic KP belt tensioner (code 8381)

Dura Line XCut sawtooth with spiral groove (110/145 teeth) – code 3751

Dura Line XCut sawtooth with spiral groove for whole crop (145/165 teeth) – code 3752
NOTE: Only available for 9000 Series models.
The following additional options are also available for the XStream KP.
Dura Line™ wear parts
Overview
Due to increased machine usage (chopping more tons per hour), standard high-quality steel parts need to be replaced more frequently. Since 2010, John Deere has been meeting the challenge and exceeding expectations with Dura Line wear parts.
Dura Line components were developed by John Deere and are installed in high wear spots on the self-propelled forage harvesters (SPFH), mainly in the crop flow. The technology is normally used for heavy-duty environments such as mining and machine tooling. It is the highest material quality in the industry that is installed on an SPFH.
Benefits
The coating is extremely wear resistant with an extraordinarily smooth surface due to the special heat treatment and a proprietary tungsten carbide composition.
Dura Line™ provides a permanent fast-chopping process with low crop friction on the components while fuel consumption remains low.
Tests show that when chopping in the same crop conditions and chopping the same tonnage, Dura Line parts last four times as long as, or longer than, standard parts. Time and money associated with replacing parts are significantly reduced.
Additional details
Dura Line guarantee
The Dura Line guarantee provides a specified number of engine hours or time of usage (whichever comes first) for the different Dura Line liners. The Dura Line guarantee was first introduced in 2017 and is valid for all 8000 and 9000 Series SPFH models. Dura Line liners damaged from foreign material or misuse are excluded. Only parts that are completely worn are replaced.
For more information about the Dura Line guarantee, contact the local sales organization.
Dura Line packages
The John Deere Dura Line crop flow liners come in three packages. Depending on the individual harvesting requirements, there is a perfect package for every need.
Basic: Perfect solution for machines mainly harvesting corn
Premium: Ideal for abrasive conditions (particularly grass)
Ultimate: Perfect choice for toughest conditions, providing full crop flow coverage
| | | | | |
| --- | --- | --- | --- | --- |
| # | Dura Line component | Basic | Premium | Ultimate |
| 1 | Spiral band | √ | √ | √ |
| 2 | Accelerator band | √ | √ | √ |
| 3 | Spout flap | √ | √ | √ |
| 4 | Spout wear liners | | √ | √ |
| 5 | Front chute base liner | | √ | √ |
| 6 | Grass chute base liner | | | √ |
| 7 | Accelerator side wall liners | | | √ |
| 8 | Front chute side liners | | | √ |
| 9 | Transition front liners | | | √ |
| 10 | Dura Line™ smooth roll scraper | √ | √ | √ |
| 11 | Dura Line™ knife holder | | | √ |
| 12 | Dura Line™ Plus shear bar | | √ | √ |
High forage quality with HarvestLab™ 3000 and AutoLoc™ system
The HarvestLab 3000 sensor mounts to the top of the discharge spout and takes accurate dry matter and ingredient readings (more than 4000 measurements per second) of the crop through the sapphire glass lens as crop passes through the spout. This is the same technology forage labs use to measure dry matter. HarvestLab 3000 with John Deere Constituent Sensing measures dry matter and constituents like sugar, starch, acid detergent fiber (ADF), neutral detergent fiber (NDF), crude fiber, crude ash, crude protein, crude fat, Metabolic Energy and ELOS depending on the crop. In addition, the HarvestLab 3000 sensor can also be used as a stationary unit.
Crop type and constituent sensing
| | | | | | | | |
| --- | --- | --- | --- | --- | --- | --- | --- |
| Crop type | Moisture/ dry matter | Crude protein | Crude starch | uNDF | ADF | Crude sugar | Crude Ash |
| Corn | X | X | X | X | X | --- | X |
| Alfalfa | X | X | --- | X | X | X | X |
| Whole crop silage | X | X | X | X | X | X | X |
| Grass | X | --- | --- | --- | --- | --- | --- |
When HarvestLab 3000 is used in conjunction with Harvest Monitor™ system, a wealth of important information becomes available to the operator, including productivity in acres per hour, throughput in tons per hour, total area harvested, total crop mass harvested, yields, and dry matter. To measure and document the constituents, a Gen 4 4640 Universal Display is required. All data documented on the Gen 4 4640 Universal Display is shown in John Deere Operations Center.
When the HarvestLab 3000 is used in conjunction with an 8000 or 9000 Series Self-Propelled Forage Harvester (SPFH) and a GreenStar™ display, AutoLoc functionality is automatically present. AutoLoc automatically varies the length of cut according to the desired crop-dry matter correlation settings based on the dry matter readings from the HarvestLab 3000 sensor. With the AutoLoc adjustment, bunk density is improved and a high forage quality is reached.
AutoLoc - Automatic length of cut
HarvestLab 3000 — moisture and ingredients on the go
Manual control (operator)
AutoLoc — automatic control
IVLOC™ transmission — length of control changes on the go
AutoLoc, a feature exclusive to John Deere and unique to the market, brings added value to the HarvestLab sensor and John Deere SPFH. AutoLoc works in conjunction with the HarvestLab 3000 sensor and IVLOC transmission to automatically adjust the length of cut (LOC) based on crop moisture levels to improve bunk density and reduce long particles in dry corn. Nutritionists, herdsmen, and SPFH operators will all benefit from this innovation.

John Deere is leading the industry in providing real-time information that matters most to forage production. Quality forage comes from properly packed silage, which is directly related to the moisture content and LOC of the crop.

LOC changes are made automatically in the field based on moisture readings and predetermined settings determined by operator requirements. No in-field calibration is required to load the LOC requirements; the operator simply uses the GreenStar™ display to program the desired LOC settings at different moisture levels.

When moisture levels of crop in the field change, the IVLOC drive automatically responds to either increase or decrease the feedroll speed, which in turn changes the LOC. If moisture levels of the crop are outside of the desired range, the IVLOC transmission adjusts and limits the LOC based on the maximum and minimum LOC settings as determined by the operator.
AutoLoc solves the dry matter and LOC puzzle

According to the accurate moisture readings, AutoLoc is able to adjust the proper LOC automatically in steps as small as 1 mm (0.04 in.). This process is faster and more accurate than any operator could do manually because of all the other important operating functions being performed. This can increase overall efficiency dramatically.

With AutoLoc, the SPFH operator simply sets the minimum, optimum, and maximum moisture levels and the corresponding lengths of cut. AutoLoc then creates a linear curve between the minimum and the optimum and between the optimum and the maximum. LOCs are then determined based on those lines.

For example, if the optimum LOC were set to 15 mm (0.59 in.) at 68 percent moisture and 8 mm (0.31 in.) at 50 percent moisture, and the actual moisture of the crop was 63 percent, AutoLoc would change the LOC to be 13 mm (0.51 in.) based on the linear curve it created.
Forage harvester performance and AutoLoc

The following equipment is required for AutoLoc functionality:
GreenStar display with Gen 4 4640 Universal Display
HarvestLab 3000 sensor
8000 or 9000 Series SPFH
Why AutoLoc is a must to ensure silage quality and overall profitability

It impacts the silage compaction in the bunker to ensure the quality of feed being stored is the best quality possible.

Silage density and AutoLoc

Good silage starts with high bunk density to preserve the crop value. This is the main objective for both dairy/beef producers and biogas plants. Many factors are involved in achieving high bunk density, including type of crop, moisture levels, length of cut, bunk filling speed, and compaction machinery.

Some of these factors cannot be easily changed while harvesting. AutoLoc adds an improved sense of control to the harvesting and silage storage operation. Operators do not need to compromise when choosing the proper length of cut based on moisture. AutoLoc takes care of this chore automatically.

Oftentimes, producers are so focused on getting the job done that important tasks and details are overlooked during the harvesting operation. Knowing the growing period for corn silage covers five months growing in the field and only a few days harvesting for 10 to 12 months of feeding, the process of the silage harvest and storage should be managed as well as possible.

The impact of the silage quality, which can be harvested and stored in just a few days, can have a huge impact on income throughout the entire year. The silage cost is a major part of the expenses in the dairy/beef and biogas plant businesses. Poor forage quality can cost tens of thousands of dollars per year in increased feed costs resulting in the producer having to invest in additional silage to reach the desired feed ration.

Spoilage/reheating and seeping losses are the biggest problems in silage bunks. These problems often happen due to insufficient compaction and an incorrect LOC. To achieve the right amount of silage compaction and keep as much air out of the silage as possible, the LOC has to be adjusted according to the moisture levels of the crop - the wetter the material, the bigger the particle size.

While varying lengths of cut can dramatically help to achieve high density levels, the length of cut of the material must be consistent in order to maintain normal rumination, chewing, and saliva production in the rumen. If the particles are too small, the food does not fit anymore with the process of the cow rumen and the compaction becomes difficult due to the instability of the material.

For this reason, John Deere created AutoLoc, which automatically adjusts the length of cut to the moisture value, while staying within the preset LOC range.

Having some limited LOC variations in a bunk silo should not affect the effective fiber in the ration on a daily basis. Using AutoLoc in conjunction with upright or bag silos can vary the effective fiber fed to animals on a daily basis.

Looking at the studies done by Honig and Rohr in 1985, as can be seen in the following table, it is possible to get high-density levels of dryer crop when the crop is chopped at a shorter LOC.


Length of cut

Bunk density

73 percent moisture

64 percent moisture

4 mm (0.16 in.)

205 kg/m3 (12.8 lb/cu ft)

179.7 kg/m3 (11.2 lb/cu ft)

7 mm (0.28 in.)

192.2 kg/m3 (12.0 lb/cu ft)

174.6 kg/m3 (10.9 lb/cu ft)

14 mm (0.55 in.)

173 kg/m3 (10.8 lb/cu ft)

157 kg/m3 (9.8 lb/cu ft)
Specs & Compare
Key Specs

9900
Current Model
Maximum power
At 1800 rpm (ECE R120): 713 kW
970 PS / 956 hp
Engine
Type
Liebherr®
Exhaust emission regulation compliancy: Final Tier 4 / EU Stage V
Displacement
24.2 L
1476.8 cu in.
Model
D9512 A7 04
Cylinders
V 12

Fuel system
Common rail plus four valves
Fuel tank capacity
1,500 L
396.3 U.S. gal.
DEF tank capacity ( for FT4 or EU Stage V emission level)
103 L
23.8 U.S. gal.
Rated Power

Engine power

Maximum power
At 1800 rpm (ECE R120): 713 kW
970 PS / 956 hp
Fuel tank capacity
1500 L
396.3 U.S. gal.
DEF tank capacity ( for FT4 or EU Stage V emission level)
103 L
23.8 U.S. gal.
Rated Power

Engine

Type
Liebherr
Exhaust emission regulation compliancy: Final Tier 4 / EU Stage V
Model
D9512 A7 04
Displacement
24.2 L
1476.8 cu in.
Cylinders
V 12
Fuel system
Common rail plus four valves
Air compressor
Base
Engine/ground speed management
Manufacturer
Speed on road

Cooling system

Cooling fan drive
Direct
Cooling system capacity

Driveline

Ground drive
ProDrive™ system, autoshift transmission, differential lock (automatic and manual), automatic wet brake system
Engine rpm on road: 1200-1800 rpm
Hydraulics
Load sensing
Main clutch
Dry clutch
Number of discs
Two discs
Main driveband
Reinforced with Kevlar® inserts
Belt tensioning
Active, hydraulic pressure
Main driveband, polybelt belts
Nine grooves
Crop flow components
Crop harvesting unit

Electrical system/Electrical and hydraulic system

Type/voltage
12 / 24 V
Batteries/battery quantity/capacity
3 x 174 amp-hr
Alternator
12 V - 200 amp
24 V - 140 amp
Hydraulic system capacity
50 L
13.2 U.S. gal.

Ground drive

Differential lock
Manual and automatic
Maximum transport speed
ProDrive system: 20/25/30/40 km/h
12.4 / 15.5 / 18.6 / 24.9 mph
Rear axle type
Hydromechanical 4WD
Automatic wet brake system
Standard
Engine speed management
Standard
Type

Cab

Tilt and extend steering column
Standard
Air conditioning and heater
Standard: ClimaTrak™ control
Cool box
Optional
Trainee seat
Standard
Hectare counter
Standard
Operator information system
Cornerpost display
CAN bus electronics
Standard
Operator's seat
Standard: Air-suspension seat
Panoramic view windows
Standard
Side window wiper
Rear and side window wiper optional
Parallel-type windscreen wiper
Electric adjust and heated
Optional on rearview mirrors
Rearview mirrors
Standard
Hand wash tank capacity

Machine management solutions

Yield monitoring
Harvest Monitor™ optional
Documentation
Harvest Doc™ optional
Crop analysis
HarvestLab™ 3000 optional
Length-of-cut control based on crop parameter
Standard: Infinitely variable length-of-cut (IVLOC™)
Optional: AutoLoc™ system - use with HarvestLab
Assisted steering systems
Optional: AutoTrac™, Manual RowSense™, AutoTrac RowSense, Machine Sync

Harvest channel

Width
Wide body channel
Crop flow components
Low-friction crop flow concept

Header connection

Infinitely variable header drive
Standard
Lateral pivoting frame
Standard
Multicoupler
Standard
Auto PTO coupler
Optional
Header drive
Base: Heavy-duty gearbox (i=3.75); pump/motor displacement: 85/80 cc
Optional: Extra heavy-duty gearbox (i=4.31); pump/motor displacement: 110/90 cc
Header height control
Advanced header control (AHC) optional
Grass pickups (transport width)
3, 4, 4.5 m
9.8, 13.1, 14.8 ft
Maize headers
8, 10 or 12 rows
Working width: 6, 7.5, or 9 m 19.7, 24.6 , or 29.5 ft
Driveline
Header connection

Feeding system/Feedrolls

Feed roll frame opening
Swing away, 37-45 degree (angle)
Number
Four
Metal detector
Standard
Stone detector
Optional
Width, front
830 mm
32.7 in.
Standard feedroll drive
Hydro feedroll drive IVLOC
Infinitely variable header drive speed
Optional feedroll drive

Cutterhead

Type
Dura-Drum™ cutterhead
Knife drum width
850 mm
33.5 in.
Knife drum diameter
670 mm
26.4 in.
Speed at rated engine speed
Standard - 1170 rpm
Optional - 1350 rpm
Knife types available (crop)
Straight - grass
Curved - corn
Shear bar options
Grass, corn, Dura Line™ corn, Dura Line Plus
Cutterhead housing width
Number of knives
Shear bar adjust
Shear bar, reversible

Knife sharpening system

Reverse rotation
Yes
Automatic from cab
Yes, remote from cab
Sharpening modes
Grinding and finishing
Reverse drive
Reverse speed

Kernel processor

Type
John Deere XStream KP
Quick-change
Quick kernel processor - swing in/swing out
Quick KP removal
Optional crane with remote-controlled electric hoist

John Deere XStream KP

Housing
Heavy-duty KP housing
Lubrication
Pressurized oil
Roll diameter
250 mm
9.8 in.
Maize - Dura Line sawtooth or XCut roll teeth number (speed differential)
110/145 (50 percent)
Whole crop - Dura Line XCut roll teeth number (speed differential)
145/165 (50 percent)
Available KP rolls
Bearing temperature monitoring system
Sorghum, roll teeth number (speed differential)
Speed differential / Roll speed (lower)
Weight

Blower/Crop accelerator

Rotor diameter/housing width
560 / 620 mm
22.86 / 24.41 in.
Number of blades
10
Speed (option)
1890 rpm

Spout

Rotation, degrees
210 degree (angle)
Hydraulic height position
Standard: Hydraulic raise and lower
Optional: Automatic spout positioning
Double-cap deflection
Standard
Reach from center line (Optional)
6 or 8 row: 4.73 m
15.5 ft
10 row: 5.87 m
19.3 ft
12 row: 6.71 m
22 ft
Working height (maximum)
Height to spout: 6.6 m
21.65 ft
Number of wear liners

Maintenance

Rotary radiator screen cleaner
Standard
Automatic lubrication system
Standard: AutoLube
Engine oil and filter change duration
1000 hours

Vehicle

Transport length (without header)
6.6 m
21.7 ft
Transport width (without header)
3.2-3.8 m
10.5-12.5 ft
Transport height (to cab roof)
Below 4 m
13.12 ft
Approximate weight (without header)
With front tires
With rear tires
Working height (maximum)

Additional information

Disk type (kernel processor)

Diameter of disks
Number of disks (top/bottom)
Weight

John Deere Premium KP

Available KP rolls
Housing
Lubrication
Maize - standard sawtooth or Dura Line™ roll teeth number (speed differential)
Roll diameter
Sorghum, roll teeth number (speed differential)
Speed differential / Roll speed (lower)
Weight
Whole crop - standard sawtooth roll teeth number (speed differential)

Length of cut

Propelling drive

Serrated roller (kernel processor)

Maize, roll teeth number (speed differential)
Sorghum, roll teeth number (speed differential)
Weight
Wholecrop, roll teeth number (speed differential)

Transmission
Accessories & Attachments
Feedrolls
Anti-accumulation kit for all 8000 SPFH model year 2018 and later, or for 9000 SPFH - 282CZBXE11002
Stone detection system retrofit-kit for all 8000 SPFH models, or for 9000 SPFH - 282CZBXE10945
Wear protection kit for lower front feed roll - 282CZBXE10742
Spout
Harness Kit, BUNDLE FOR 10ROW EXTENSION - 282CZBXE11470
Harness Kit, BUNDLE FOR 12ROW EXTENSION - 282CZBXE11471
Spout Kit, BUNDLE FOR 10ROW EXTENSION ME - 282CZBXE11467
Spout Kit, BUNDLE FOR 12ROW EXTENSION ME - 282CZBXE11468
Spout Kit, BUNDLE FOR FOLD READY MECHANI - 282CZBXE11474
© COPYRIGHT 2023 SMITH TRACTOR CO. EQUIPMENT - ALL RIGHTS RESERVED| Privacy Policy | Powered By